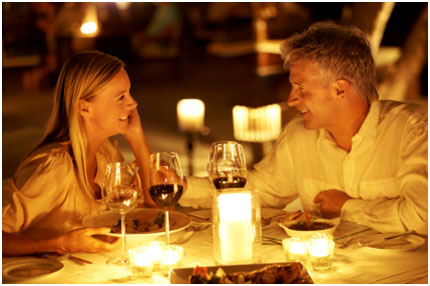 Does Online Dating Really Work?
Well here's the facts.
There are 54 million singles in the United States and 40 million of those singles have tried on line dating.
That is a pretty significant number. So obviously online dating is great place to meet other singles looking for love. You may not believe me but the statistics don't lie. Here are the statistics.
If so many singles have tried on line dating- how successful is it for finding true love?
Well Match.com did a survey of people who married in the past three years. As it turns out, 17% met their partners online.
So it is true, internet dating is a great way to meet single men.
So here's a big hint, in order to be successful on line you must have right attitude.
Why? Because, if you choose to try online dating there's a chance you just may have the following experiences:
Meet men with poor dating skills who will approach you in ways you find totally unattractive;

Get excited over a man you like and he will disappear without a word;

If courageous enough, (and you should be, actually you MUST be) to wink and/or email a man you find attractive he will not respond;

Encounter a nightmare match who argues with you or lashes out at you when you indicate you are not interested.
So if all this could happen why in the world would you want to internet date?
Because as you now know, 17% of marriages met online and because 40 million of the 54 million singles have been online.
To be successful at internet dating you just have to develop a "thick skin".
And it is YOUR choice to decide if you are going to let any of this stuff I just wrote about bother you.
So if 17% of marriages are from online dating, imagine your internet dating success with the right skills to make it work it for you!
So how do you survive internet dating and make it work for you?
In Don Miguel Ruiz's book the Four Agreements the second agreement is Don't Take Anything Personally. It says "nothing others do is because of you. What others say and do is a projection of their own reality, their own dream. "When you are immune to the opinions and actions of others, you won't be the victim of needless suffering."
Sounds hard? Maybe so but it's actually just a choice.
One of my clients was online when she was repeatedly emailed from a man she did not find attractive. After ignoring several emails she finally said she was not interested. He emailed her back rather nasty, called her superficial and said if he was tall dark and handsome she would be interested.
She was very upset about this interaction. In fact she lost sleep at night.
But really what was the point. This was obviously his problem and had nothing to do with her. In fact, she did not even KNOW him!
When you don't take things personally, you don't have to suffer.
One of the biggest reasons I see online dating fail is because you have a few bad experiences, take it personally and give up after just a month or two.
But what happens if you persevere?
After his divorce was final, Michael was online for two years before he met Sharon. He told me he went out with many women and even got into some short term relationships but no one was a good fit. Although he often felt discouraged when each new woman turned out NOT to be the one. So he expanded his search criteria and met Sharon who lived in Arizona. Turns out she was coming to California for a visit and they ended up meeting. He told me he immediately fell in love with her smile. Since then she has relocated to Southern California and they are planning their wedding. He was so glad he persevered. He realized now that he was just practicing for her.
So go online! Give it a try! Practice not taking things personally! What do you have to lose?