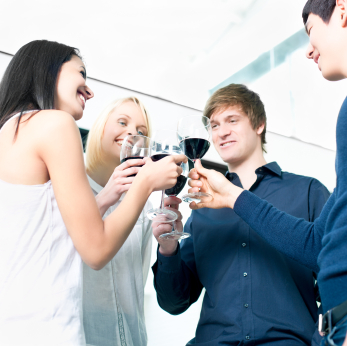 Many Singles say that it seems more and more difficult to meet the right person these days.
Take a minute to ask yourself honestly, after you left your carefree 20s behind did you find a tendency to become a little more "set in your ways".
You probably have the same close knit group of friends, the same profession and know everyone at your work. You are no longer in school, meeting other students, engaging in study groups, going out during weeknights.
Life becomes busier, you have more responsibilities and less time to expand your social circle. So it become easier and easier to stay in your comfort zone.
The truth is there is no ONE perfect place that every single woman can go and be guaranteed to meet your life partner.
It is up to you to find your passion, discover new interests, follow your bliss. When you do that, chances are very good, that your Mr. Right will appear, enjoying his life just like you are enjoying yours.
So you may be asking, what does this have to do with the holidays?
Well nothing can boost your spirits like dressing up, sipping a glass of champagne, eating yummy food and dancing to your favorite songs.
Find a holiday party that sounds like fun to you. Many radio stations, charity organizations and local restaurants and clubs offer holiday parties. Take advantage of one of these opportunities.
Pick the party or event that sounds like the most fun to you, make plans and GO.
AND take the 7 Days to True Love Program. If you have already taken the program, review the exercises and dating tips, which are guaranteed to help you have a great time!
If you are not a party person and not in the mood for an event, donate your time at a local charity event. Serve food to the homeless at a soup kitchen or participate in a holiday toy drive. Build a house with Habitat for Humanity.
Helping others is a great way to make you feel good. Happiness is the biggest LOVE ATTRACTOR there is!
Whatever it is, commit to doing something special this holiday season.
You can make this your best holiday season EVER!
Much Love and Happy Dating!